Thistle Byre Farm
Burnettsville, Indiana 47926
Enjoy a farm-to-table dinner!
Overview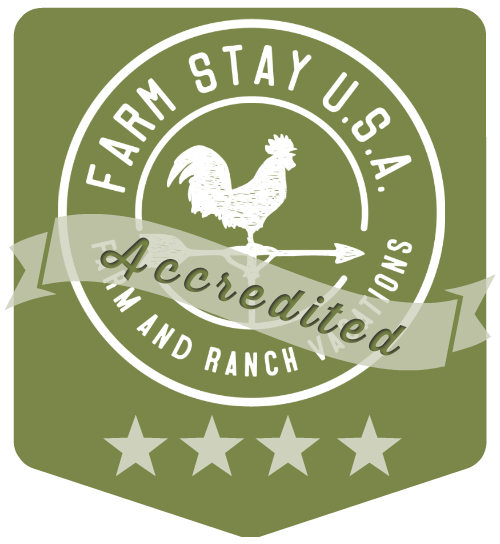 Thistle Byre Farm is a sustainable family farm with over 80 acres of pastures, gardens, and woodlands in rural Indiana. Our speciality is humanely and ethically raised grass-fed meats. We're passionate about modeling responsible land stewardship, growing and raising our food using ecologically beneficial methods, and we strive to teach others about how to grow their own food in a sustainable way for a healthy and nurturing home.  Enjoy beautiful views of the rolling hills and woods while you relax in our cozy private farmhouse cottage, just down the hill from main farm. 
During your stay with us, we invite you to learn about sustainable farming. Take a free guided tour of the farm and meet our hogs, horses, sheep, and chickens. Learn how to grow and prepare your own food with a 2-hour Gardening or Canning Class, available for an extra fee. June through September book a Sunday evening Farm-to-Table Dinner- a delicious 3-course meal of farm-grown and raised food, and fellowship around the campfire. Contact farm for scheduling and fees.
The quaint town of Monticello is not far from the farm with antique stores, restaurants, an amusement & water park, lovely lakes with fishing and hiking, and a reenactment of the French and Indian War every October. We're also less than an hour's drive from Purdue University, where you can attend seasonal basketball and football games, and a short distance from Hoosier Heartland Highway. About a mile from the farm, there's a place to put a boat in the river, if you're bringing one along. Let us know if you'd like any recommendations.
The farmhouse cottage is located in a private wooded area, about a mile down a country lane from the main farm. It's well-maintained and spacious, with three bedrooms, a full kitchen, a reading nook with books, and lovely views of the pastures and woods. Fresh flowers and a dozen farm-fresh eggs await you. We're out in the countryside here, which means that there's abundant nature to see and wonderful views of the stars on clear nights, though it also means that our wifi signal can be pretty spotty — take this as an opportunity to take some time away from the screens, relax and enjoy the peace and quiet of life on the farm.
+ See More
The Farmhouse Cottage
Special Instructions: Farmhouse sleeps 8 and features three bedrooms, a full kitchen, full bathroom, a reading nook with books, and lovely views. there is a bonus queen air mattress if it is needed for 2 extra people.
Capacity: 8
Rate Period
Price

Per Night

Instructions: Pets require a pet fee ($60.00/week) and to be kenneled nightly. Only one pet per visit please. Additional guest beyond 8 are $50.00 extra a night. Bookings are through VRBO.

Rate Period

From: 01/01 To: 12/31

Price :

$199

Farm stay experience, lodging, self cooked food

Instructions: Guests beyond 8 are subject to 25.00 a night fee extra and there is a weekly pet fee of $60.00

Rate Period

From: 08/22 To: 01/23

Price :

$199.00

additional guest are charged 25.00 a night

Instructions: Any guests beyond 8 have an extra fee.

Rate Period

From: 8/22 To: ests

Price :

$25.00

1 Kenneled at night cat or dog is $60.00 extra a week

Instructions: 1 Dog or cat is welcome but they must be kenneled at night or while the guests are away sight seeing.

Rate Period

From: 8/22 To: 1/23

Price :

$60.00
Rates subject to change without notice. Please confirm with farm or ranch host.
Check Availability