Become a Member
Member Benefits and Pricing Options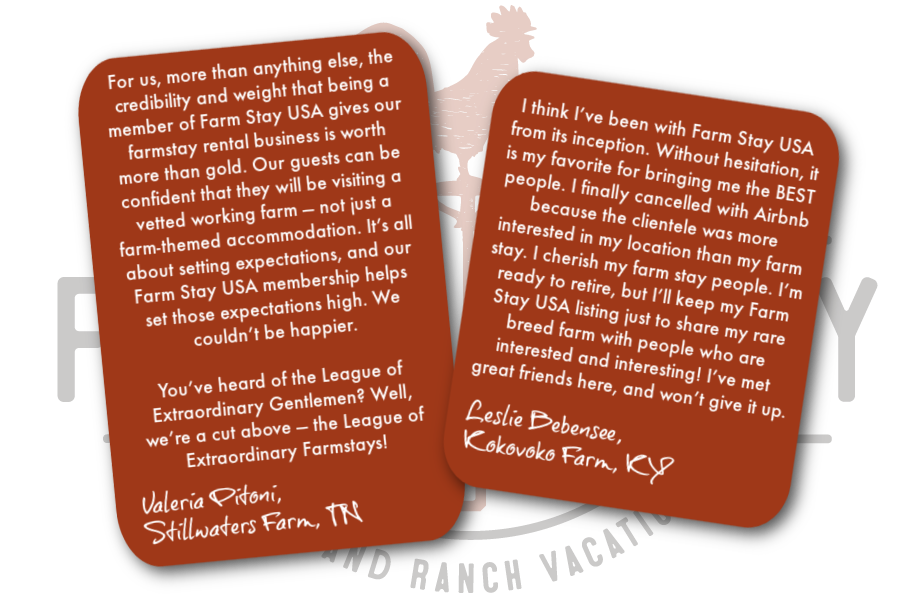 We are farmers promoting and advocating for farmers. We welcome all working farms, ranches and vineyards offering overnight accommodations to join and strengthen our network in the agritourism destination arena. Our members are the real deal.
Our website, launched in 2010, is our shining star and offers our members truly qualified leads and referrals. Travelers using the site have already self-selected as they seek authentic farm and ranch experiences. We own the SEO for real 'farm stays' here in the U.S. and these are the guests you want!
But, we are more than just a website. We offer all paid members support in best practices, accreditation, insurance referrals, regulatory issues, a private member forum, and more. Listing levels for membership relate primarily to the level of marketing that works for you. Your membership dues are tax deductible as an operating expense.
Featured Benefits - we provide support in/with...
Niche marketing
Qualified leads
Best practices
Accreditation
Private member forum
Preferred providers
Insurance referrals
Business Startup
Personal Service
Enhanced Membership
$395/year
Featured Farm/Ranch on Farm Stay USA Homepage (rotating)
First up in Search results (rotating)
24 photos
Hotlink to calendar/booking tools
Promotion to appropriate media inquiries
Google Analytics traffic to your profile provided upon request
Access to member-only resources on website and private members group on Facebook
Personal customer service with Farm Stay USA staff via phone, email, text
Membership dues are paid annually. Monthly subscription plan available
3 MONTHS FREE TRIAL ($100 value)
Basic Membership
$195/year
12 photos
Hotlink to calendar/booking tools
Promotion to appropriate media inquiries
Google Analytics traffic to your profile provided upon request
Access to member-only resources on website and private members group on Facebook
Personal customer service with Farm Stay USA staff via phone, email, text
Membership dues are paid annually. Monthly subscription plan available
3 MONTHS FREE TRIAL ($50 value)
Individual Member
$65/year
You are just setting up your farm stay and would like access to our training materials
You are a student in agritourism and want to understand the market
You are a travel, government, or education professional
You want to support our organization
You are interested in the industry
Personal customer service with Farm Stay USA staff via phone, email, text