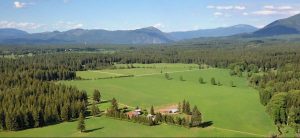 Outdoor adventures, authentic culinary experiences and spectacular scenery Idaho offers much more than the nation's best potatoes. Idaho's moderate climate yields fruits, fish, meats, cheeses and a favorite to many wine and beer.
This northwestern mountainous state is a mountain biker's paradise, has endless fishing spots and is full of great hiking trails. Idaho's lakes, rivers and scenery alone are worth the visit. There are accommodations for every vacationer from camping and rv parks to farm stays, hotels and resorts.
Browse through our list of Farm Stays below and plan your next Idaho adventure today!
Find your next getaway at an Idaho Farm Stay!
(Photo Credit: Cedar Mountain Farm)