10 Unforgettable Covered Wagon Farm Stays
Covered wagons are rolling onto farms and ranches across the U.S., the most iconic of these being Conestoga Wagons. You've probably seen those beauties with their curved floors and canvas roofs held up by wooden hoops. Covered wagons hauled everything from freight to people in the 18th-early 19th centuries and even served as lodging for shepherds. Now they are seeing a revival in the 21st century as a form of historic glamping for the modern-day adventurer!
While the Conestoga wagon was too heavy to make the journey west like the lighter prairie schooners used in the 19th century migration to the California and Oregon territories, they were seen as the OG wagon pioneer. Today they are often the choice for glamping because of their sturdy construction (and headroom!)
In the ever-evolving realm of travel trends, glamping in covered wagons resonates with adventurers, history enthusiasts, and comfort-seekers alike. Get ready to explore this handpicked collection of wagons created by skilled craftsmen, from original built to modern replicas, on 10 working farms and ranches in the U.S. Step into a living storybook where the past meets the present, crafting a unique getaway that's your story to tell.
1. Forbes Family Farm  |  Manila, Utah
Forbes Family Farm is nestled along the Sheep Creek Geological Loop bordering Ashley National Forest in Manila, Utah, where rolling hills, lush fields, and open skies create a timeless backdrop. Depending on the time of year, you'll even have the opportunity to purchase fresh garden produce from the farm, perfect for enhancing your dinner with a touch of greens or flavorful tomatoes.
For more information and to book, click here.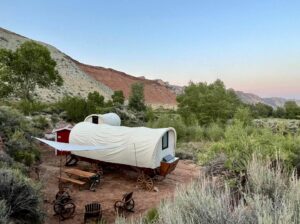 2. Blisswood Bed and Breakfast Ranch  |  Catspring, Texas
Spanning over 350 acres, Blisswood Bed and Breakfast Ranch in Cat Spring, Texas immerses you in the serene beauty of the Texas countryside. Once you've set up "camp" in your Conestoga Wagon, set out to discover the variety of domestic and wild animals, a beautiful lake for an afternoon canoe trip or fishing, miles of trails for hiking, biking, and horseback riding. As the day turns to night, settle in to gaze out into the big Texas skies from your private hot tub. 
For more information and to book, click here.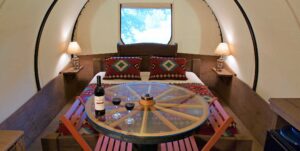 3. Sandy Valley Ranch  |  Sandy Valley, Nevada
Located about one hour from Las Vegas nestled amidst the trees and valleys of the Mojave Desert in Nevada is Sandy Valley Ranch. This wagon sits on a dude ranch that offers an authentic western adventure – so it's no wonder that you're invited to sleep in a wagon, explore by horseback, and even participate in the cattle drives and rodeo. You're invited to shop the general store or opt into breakfast, lunch, or dinner at an additional cost as the ranch is in a remote location, a considerable 21 miles away from the nearest gas station!
For more information and to book, click here.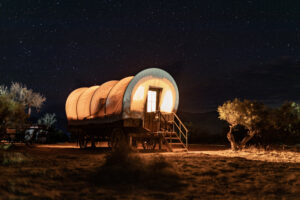 4. Ocoee Riverside Farm  |  Benton, Tennessee
Ocoee Riverside Farm in the charming town of Benton, Tennessee is a 30-acre, family-owned wonderland right by the meandering Ocoee River. Nestled on the farm alongside the pasture, you'll discover three distinct covered wagons, each serving as your own cozy retreat. Whether you're up for a horseback ride, a farm tour, or a hike to the nearby waterfalls, there's a whole world of experiences waiting for you just outside your wagon's door.
For more information and to book, click here.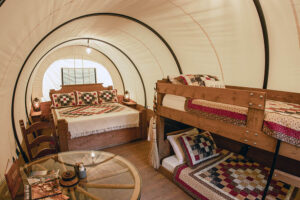 5. Big Quiet  |  Powell, Wyoming
Set amidst thousands of acres Wyoming grasslands and sagebush is a sheepherders wagon at Big Quiet Farm. This farm embodies the rich cultural history of the Big Horn Basin and true to its name, tranquility is the star of the show here. During your time at Big Quiet Farm, you have the chance to discover their sustainable farming techniques – where they'll gladly share the secrets of how they care for the land thoughtfully, emphasizing the importance of respect and consideration.
For more information and to book, click here.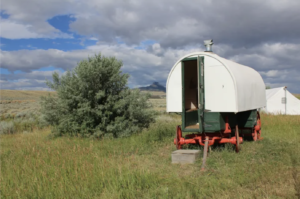 6. Rooterville Animal Sanctuary  |  Melrose, Florida
In the charming small town of Melrose, Florida, you'll discover Rooterville Animal Sanctuary, a haven for both you and a diverse community of farm animals. Begin your day just like any other, with a steaming cup of coffee on your own private porch with the sights and sounds of farm animals nearby. The best part, are the joys you get to experience when feeding the pigs, bonding with the cows, and making friends with the goats. All proceeds help them care for the animals!
For more information and to book, click here.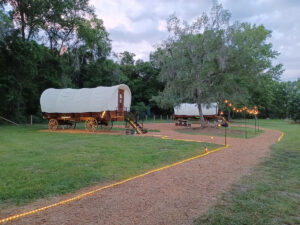 7. Best Nest Farm  |  Glenwood, Iowa
Waiting for you amidst the stunning landscapes of the Loess Hills is Best Nest Farm in Glenwood, Iowa. Handcrafted in the U.S. by PlainsCraft Wagons, the two wagons are surrounded by rolling hills, a lake, sprawling timberland loaded with picturesque hiking trails, and expansive farmland that currently boasts alfalfa fields.  Make friends with the farm animals, cast a line, hop in a kayak, or ride on a paddleboat and take in the wildlife that calls the farm home.
For more information and to book, click here.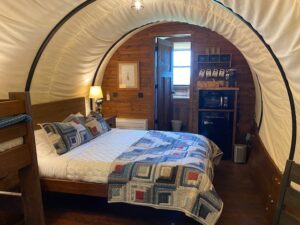 8. Barons Creekside  |  Fredricksburg, Texas
Discover nature's allure at Barons Creekside, where Swiss-inspired charm meets the wild. Ducks glide along the creek, friendly cats mingle with guests, and a cast of deer, armadillos, squirrels, raccoons, and gray foxes roam the landscape. Positioned just a quick drive from Hill Country wineries, indulge in the perfect chance to visit a nearby vineyard or savor the flavor of local wine right from the comfort of your wagon.
For more information and to book, click here.

9. Serenity Sheep Farm  |  Belgrade, Montana
Set on a 40-acre farm between Yellowstone National Park and Glacier in Belgrade, Montana, your surroundings at Serenity Sheep Farm come to life with sheep, goats, pigs, cows, chickens, turkeys, a llama, and a miniature mule! Settle down in a bona fide antique sheepherders wagon, crafted prior to 1926 by the Winona Wagon Co. in Winona, MN. Once as renowned as GMC or Ford is today, spending a night in this Winona Wagon is more than just a stay – it's an encounter with a genuine relic, offering a one-of-a-kind experience.
For more information and to book, click here.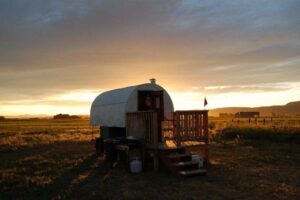 10. Vines and Goats Farm  |  Banner Elk, North Carolina
Nestled within the heart of the Blue Ridge Mountains, Vines and Goats Farm in Banner Elk, North Carolina, surrounds you with the stunning scenery of rolling hills, forests, and majestic mountain peaks that define the region's iconic beauty. In addition to the scenic views from your wagon, you're welcome to befriend their charming long-curly-haired Angora goats!
For more information and to book, click here.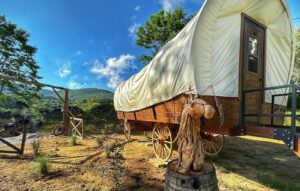 (Banner photo by Skeeter Hagler @ Blisswood B&B Ranch)