Barn Quilts: An Origin Story, A Logo.  
The new Farmstay logo draws inspiration from the wonderful tradition of barn quilts, which have experienced a remarkable resurgence lately.  Imagine intricate patterns reminiscent of sewn quilts, beautifully painted on the sides of barns. Today, these designs have given rise to Barn Quilt Trails, inviting visitors to embark on scenic adventures through the countryside. By following vibrant geometric squares adorning barns across rural America, you can truly immerse yourself in the charm of farm stays. What a great idea that perfectly aligns with our focus!
But why barn quilts, you may wonder? Let's dive into their origin story, which dates back over two centuries. When immigrants from Austria, Germany, and the Netherlands arrived in the United States, they brought with them a cherished tradition of painting symbols on barns. The Pennsylvania Dutch, renowned for their artistic barn decorations, often incorporated symmetrical or geometric designs similar to those found on quilts and everyday household items.
Beyond their visual appeal, these symbols served a practical purpose. Farmers, with their deep-rooted superstitions, believed that these painted symbols would protect their barns from evil spirits and bring good luck. Each design held its own meaning: eight-pointed stars symbolized abundance, rosettes safeguarded against famine, and oak leaves represented strength. As paint became more affordable in the 1830s, barn decorations became increasingly personalized and ornate.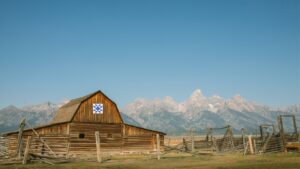 The popularity of barn quilts soon spread to New England and the Midwest, where they played a crucial role as wayfinding markers in the countryside. These distinctive barn paintings guided travelers to specific farms or crossroads, forming a precursor to the modern Quilt Trail movement. Unfortunately, as the 20th century arrived, barn quilts fell out of fashion and were replaced by paid advertisements for everyday products like flour and chewing tobacco.
The early 2000s brought a rekindled interest in barn quilts. In Ohio, a quilt trail was established as a tribute to a beloved mother and to breathe new life into rural tourism. The quilt patterns remained true to their heritage, representing genealogy and embracing diverse cultures. Modern barn quilts evolved from enlarged versions of single quilt blocks, featuring solid-colored geometric designs. Nowadays, barn quilts showcase a myriad of captivating images, including logos, depictions of livestock, and representations of the crops grown on the farm. They act as visual storytellers, honoring the art form while igniting creativity in the countryside and celebrating rich agricultural history. 
It wasn't that hard then, to look at barn quilt patterns for a logo to represent Farmstay. We sought something simple yet iconic, a pattern that resonated with our values and appeared frequently across rural landscapes. Eventually, we settled on the star or cross motif—an incredibly versatile symbol that transforms as you turn it, with a solid center and arms that rotate. Little did we know that this particular pattern had already left its mark in the world of barn quilts, recognized for its unique colors and fills. 
Our logo exudes a warm and welcoming aura, deeply rooted in tradition, and carrying a touch of superstitious protection and good fortune. It embodies the essence of Farmstay and holds its own captivating story, which we are excited to continue enriching and sharing with all who encounter it.