Splendor Farms: A Louisiana B&B fit for cowgirls and queens
This month, Farm Stay U.S. is proud to feature Splendor Farms Bed & Breakfast, a B&B, trail-riding facility, and licensed Dachshund kennel in Bush, Louisiana, one hour outside of New Orleans. We recently interviewed owner Kelly McKinney and are excited to share her story. For more details and to plan a stay, check out the Farm Stay USA Splendor Farms listing.

1. Could you tell us about the history of your farm?
Through hard work and faith in my dreams, Splendor Farms evolved from a family home with a horse into the bed and breakfast and trail riding facility we have today. My husband, an attorney, and I, an insurance defense paralegal for over 20 years, moved here in 1988 and raised our two children here, but they didn't really live a farm life then other than a garden and woods to play in. About 12 years ago, I decided to breed my mare and build a barn for her. When the kids left for college, I bought my first dachshund, then another, and another, and then started showing and breeding. I was tiring of the legal world and decided I wanted to show my dogs full time, give riding lessons, and board horses.
Then Hurricane Katrina came and with all the misery it brought, including my husband's heart surgery three weeks after the hurricane. I decided life was too short — the kids had graduated from college by then and I had three empty rooms, so I decided to open a bed and breakfast, but not the usual kind with antiques and wine/cheese at check in. I wanted to be pet and kid friendly, offering a farm environment with fishing and swimming, and the best part, trail rides!  Today we have a bed and breakfast, trail riding on over 1000 acres, and a licensed dachshund kennel.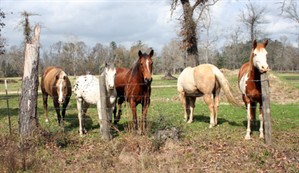 I am in my 5th year of summer horse/farm camps and now do middle of the month camps as well; for those monthly camps I work with the parents so the camps are an incentive to make good grades; I only let girls attend if they are making As and Bs in school, which has helped some girls who were struggling academically to turn around their grades. The summer camps host 8-10 campers at a time; the campers get to do lots of riding, learn to cook, do chores, pick veggies, fish, and compete in a rodeo on Fridays.
My next endeavor will be to build a couple of small one-room camps, with baths and full kitchens, on the 2.5 acres across from our home overlooking the creek.  These will be rented out for weekend stays, with day passes for trail rides, fishing, and swimming available for the guests. They will be so private that they will also be great "get away from it all" destinations!
2. Could you tell us about your animals?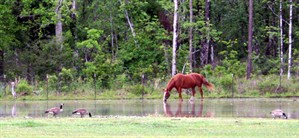 I have at any time as many as 35 to 45 head of trail horses, boarding horses, rescued thoroughbreds, and I still have my old barrel mare, Star. She is 26 now and still gets excited when she hears a gate clank, like in the arena. We have several barn cats, so no mice! We have a couple of stocked ponds for the guest to fish, on a catch & release basis. We have chickens for eggs, guineas, pheasants, & turkeys for gumbos, and a pot-bellied pig, along with milk goats and sheep. If I could get my nannies to have girls instead of boys, we could make goat cheese.
3. Why did you choose to breed and raise dachshunds?
Dachshunds (long haired) are gorgeous dogs, very smart and funny. They are small for your lap, but big with loyalty. I love all hounds, but Dachshunds' different shape and almost-shaped eyes are too hard to resist. The first time I saw a Dachshund, I was in a stationary store, and when I took a seat, the red pillow next to me moved and I jumped! I looked down and saw these gorgeous brown eyes and long flowing red coat. I didn't even know what kind of dog it was until the owner told me. Then, a week later, I was at Louisiana Paralegal Seminar in New Orleans, and during a break I was walking through the hotel lobby and a lady came off the elevator with two long haired black & tans on a double leash. Their gait was just breathtaking for such short legs, and I was hooked. I rescue many dachshunds from animal shelters and breeders. Sometimes they simply show up in my neighborhood!

4.  Do you have a favorite vegetable or fruit, either to grow or to eat?
Strawberries and tomatoes, tomatoes, tomatoes, hands down! We are lucky in Louisiana to be able to grow both in several plantings almost year around. A greenhouse has been a great addition to my food supply. We can start our tomato seeds in December and plant in pots in February and in the ground in early April, for early spring tomatoes in May. Strawberries are wonderful, too. Two plantings a year, and they have more vitamin C than oranges, plus they freeze outstandingly well.
5. What is the setting of your farm like?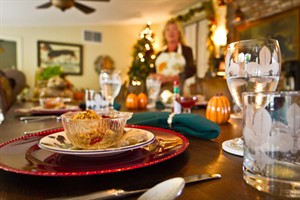 Our farm is pastoral, with woods to explore and lots of animals to visit. Our farm is prettier to most guests in the spring and summer when the plants and flowers are out, but fall is my favorite time! We may not have the foliage changes like up in the northeast, but to me Louisiana is beautiful in the fall.  It could also be that after our hot summers, we are charmed by the cooler weather.
Our pool area is very nice and can feel very private, as it's surrounded by hibiscus, but you can be floating in the pool and look out and see beautiful horses grazing 100 feet away. We have herb gardens and raised beds with seasonal veggies to admire and when we have an abundant crop, we are more than happy to let you pick some to take home with you.
6. What do most of your guests do during their stay?
They walk around the farm, get to know the petting zoo animals, pick veggies in high season, take a hike on the horse trails through the 45 acres, trail ride after breakfast, read a book on the patio, swim, fish the stocked ponds, or take a nap in a hammock (my favorite when I have time!)  They also get to choose what they are going to have for breakfast the next morning.  Every guest gets a menu with four to five items to choose from. No generic breakfast casserole is served in my dining room!
7. Your B&B includes three guest bedrooms – "The Queens' Suite," "La Louisiane," and "Ponderosa." You also offer a furnished guest apartment with six bunk beds. Could you tell us about the décor and your decorating philosophy?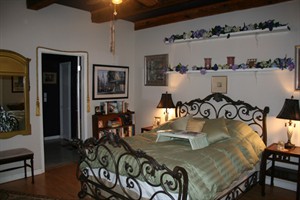 My decorating philosophy is really about comfort. I use 1000+ thread count sheets, down comforters, and thick towels. We iron all the sheets. It's luxurious even though you're on a farm. We also offer flat-screen TVs, DVD players and board games. There's so much to do here!
8. Anything more you'd like to add?
I am very blessed to be living my dream — being in the country, surrounded by animals, cooking for people, decorating for the seasons, and having a very wonderful husband and children who support my dream and like my mother-in-law told me, "You have vision!  I am so proud of you!"  I am proud of me, too, and of
Splendor Farms
!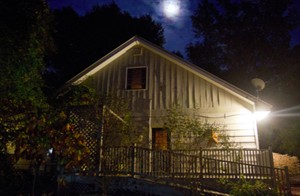 —-
Photo credits: Carl Bordelon Photography