Springtime = Baby Animals!
When it comes to farming, winter tends to be a welcome respite — depending on where you live of course — where planning for the next season by cozy fires is the standard.  After so much time indoors though, many farmers look forward to "springing into action" when the cold begins to subside and they begin planting their seedlings in greenhouses and, of course, readying themselves for the onslaught of baby animals that are about to arrive! 
In the natural world, many animals have their offspring in springtime — bears, foxes, birds, deer and the like — when food becomes more plentiful with all of the new growth beginning to develop and bloom in their environment.  Although there are exceptions, farmers tend to plan for breeders and their offspring to take advantage of the new growth in pastures and the warm sunshine that welcomes them.  Thus, springtime is the best time to visit farms and ranches if you are looking to meet some sweet faces discovering their new world.  
Here are a few of our members who welcome new little ones to their flocks and herds every year.  Book a springtime stay and get up close and personal with some adorable baby animals! 
Links to every farm listed on photos at the bottom!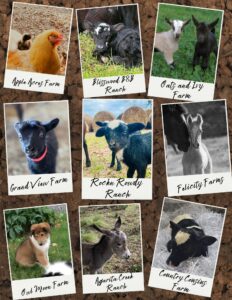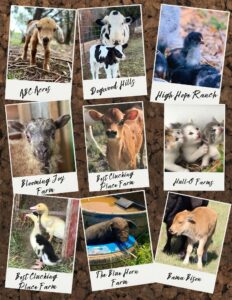 Blooming Joy Farm           Goat House Farm          ABC Acres         Bama Bison         Dogwood Hills Guest Farm         The Blue Horn Farm         Hull-O Farms         Melody Acres         Best Clucking Place Farms
Owl Moon Farm           Agarita Creek Ranch          Country Cousins Farm        Rockn Rowdy Ranch        Felicity Farms        Vermont Grand View Farm        Oats and Ivy Farm        Blisswood B&B Ranch        Apple Acres Farm