Learn About Responsible Land Stewardship with Abby Abbott-Rider of Thistle Byre Farm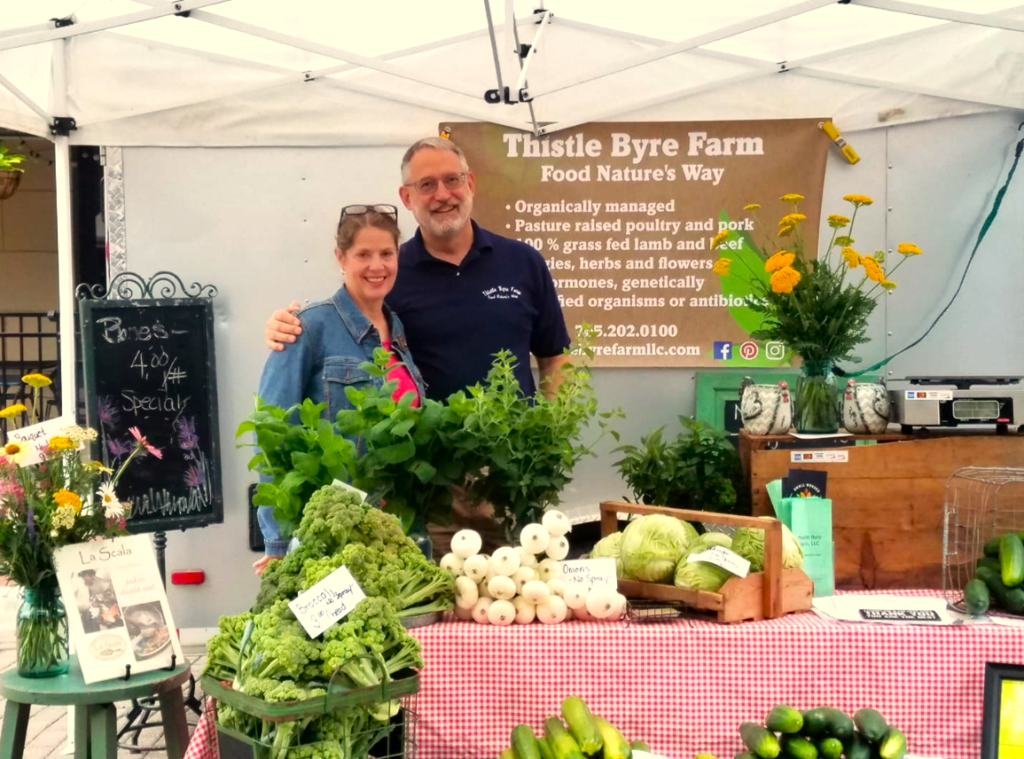 Thistle Byre farm is a family farm located in Burnettsville, Indiana with over 80 acres of pastures, gardens, and woodlands. It is owned and operated by Abby Abbott-Rider and her husband Jeff Rider. Abby is passionate about sustainable agriculture, healthy, NON-GMO food and sharing her quiet, tranquil property with anyone who wants to learn about sustainable, healthy living.
Below written by Abby Abbott-Rider of Thistle Byre Farm
I grew up on a farm in Central New York and have been passionate about agriculture from a young age. My play-pen was often put on a wagon and taken to the field so I was not far from my parents as they worked together on my family's dairy, potato, apple and grain farm. My parents have always loved welcoming visitors from around the world on their farm. Growing up meeting and listening to these travelers and their stories drew me to pursue international travel – especially to farms around the world. Several of the European farms I stayed at were the highlight of my travels and they sparked in me the desire to give others the same opportunity in the US – just as my folks did. It was because of traveling that I was also led to pursue coursework in international agriculture at Purdue University, before settling down to graduate with a more production-oriented degree in agriculture.
Thistle Byre is a family farm where my husband's cousins were raised. They remember fields of strawberries and watermelon on part of their farm that was about 1 mile from the main farm up a private, beautiful, gravel road. We are located in the heart of rural, northern Carroll County's rolling, wooded hillsides. The main farm is located on a dirt road but is not far from the amenities of a lake town – Monticello, Indiana – where water sports abound and shopping is available. We are also very close to Purdue University and the Lafayette area; the home of great sports and culturally-diverse offerings year round.
In addition to being a farmer, I am an adult, nurse-practitioner. Although I am a prescriber of medicine, I know the most powerful prescription is clean food. As a woman who has battled autoimmune disease, I know the power of clean food on a cellular level. It is my hope our visitors can learn to appreciate clean food, raised with care and concern for our environment. I believe as hosts we learn so much from our visitors and it is the rich stories shared by my guests that make this fun for me, and in turn, I want to teach visitors about how clean food is grown and raised.
At Thistle Byre, we're passionate about modeling responsible land-stewardship, growing and raising our food using ecologically beneficial methods, and we strive to teach others about how to grow their own food in a sustainable way for a healthy and nurturing home. Therefore, we humanely raise NON-GMO-fed, hormone and antibiotic-free meats and NON-GMO, vegetables, fruits and herbs. Our sheep and cow herds are 100% grass-fed and pastured. The sheep are Katahdin/St. Croix cross, hair sheep and the cows are also a cross of Galloway/Devon with a bit of Black Angus. These are hearty crosses that can withstand the harsh, winter weather we often have. Our Red Wattle/Berkshire cross pigs are fed NON-GMO corn and a 16% protein NON-GMO hog ration. We are a farrow-to-finish operation and also sell our extra feeder pigs to individuals that want to raise their own pork. Our chickens are a mixture of breeds that are given NON-GMO feed and have exposure to grass in the summer. Turkeys, ducks, and goats can be found here as well. The farm has a large market garden and we like to put our energy into the herbs and veggies our family enjoys canning and freezing.
-Abby Abbott-Rider
The Thistle Byre Farm stay is a remote, peaceful place in the countryside located in a private wooded area – a mile down a country lane to the main farm – and boasts clear night skies away from city lights. During your stay, the hosts invite you to learn about sustainable farming by taking free guided tours of the farm to meet the livestock and peruse the gardens. The farm offers fresh flowers and a dozen farm-fresh eggs and has many additional offerings for a fee: a farm-to-fork, 3-course dinner by a campfire once a month (June-Sept), tours, gardening and canning classes, and a CSA basket for guests who book 1 week. The fully-furnished, spacious farmhouse is newly remodeled with 3 bedrooms, a full kitchen, a reading nook filled with books and games and an outdoor fire-pit (for s'mores!) stocked with complimentary wood.
Thanks to Abby for sharing about her lovely farm and farm practices. If you're an Indiana native and want a quiet, local getaway or if you've always wanted to visit Indiana's countryside, check out Thistle Byre's profile to learn more.