MoonRidge Farms in Beavercreek, Oregon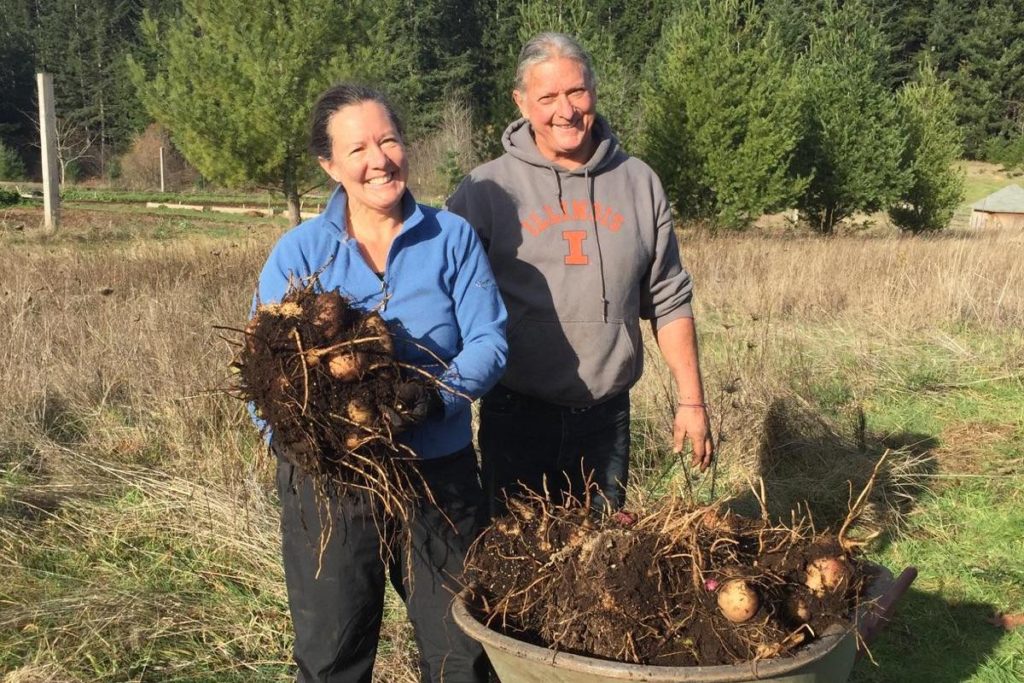 Lauren Hartmann and Ted Bancroft wear their farm on their sleeves.
MoonRidge is a working organic farm focused on biodynamic and permaculture practices (the traditional farming practices of our forefathers who just thought of it as 'farming') "dedicated to supporting a healthy, vibrant environment". But it is also a place of healing for those with cancer. It is a place of peace and meditation. It is a place to draw community in for support and education.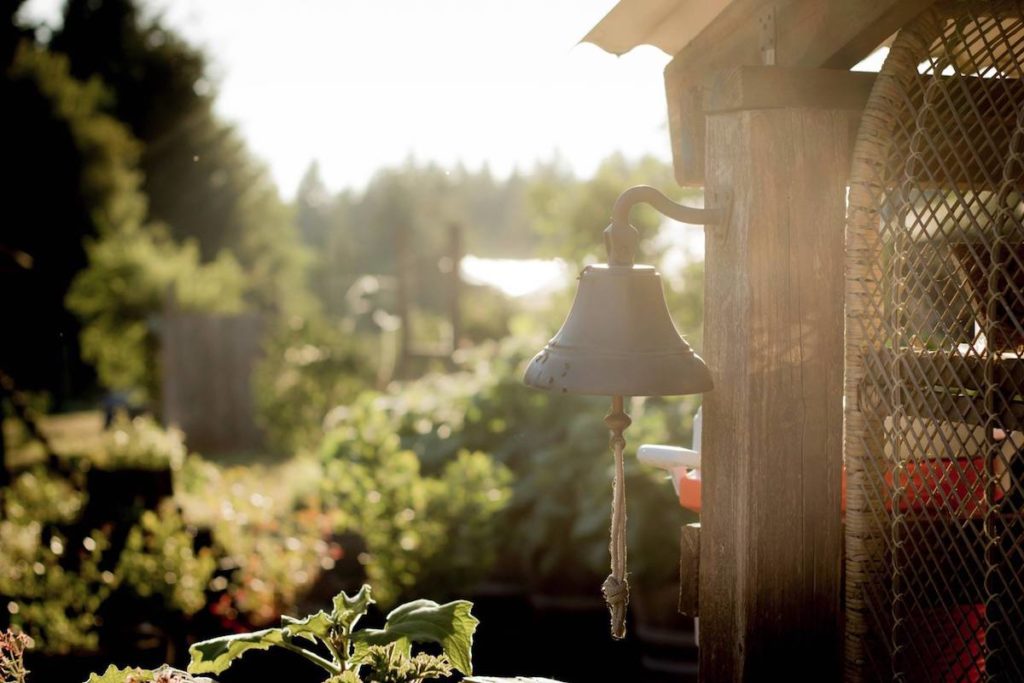 Lauren grew up on a traditional corn and soybean farm in Nebraska.  Forever in love with the land and gardening, she bought MoonRidge in the late 1990s as a 20 acre parcel. Little by little she sought to bring it back to a more healthy condition, all the while maintaining her job as a nurse in the local area. Ted joined Lauren on the farm not long after. His background was in tree work, both residential and commercial forestry.  The farm next door came up for sale and they added 20 acres and a house.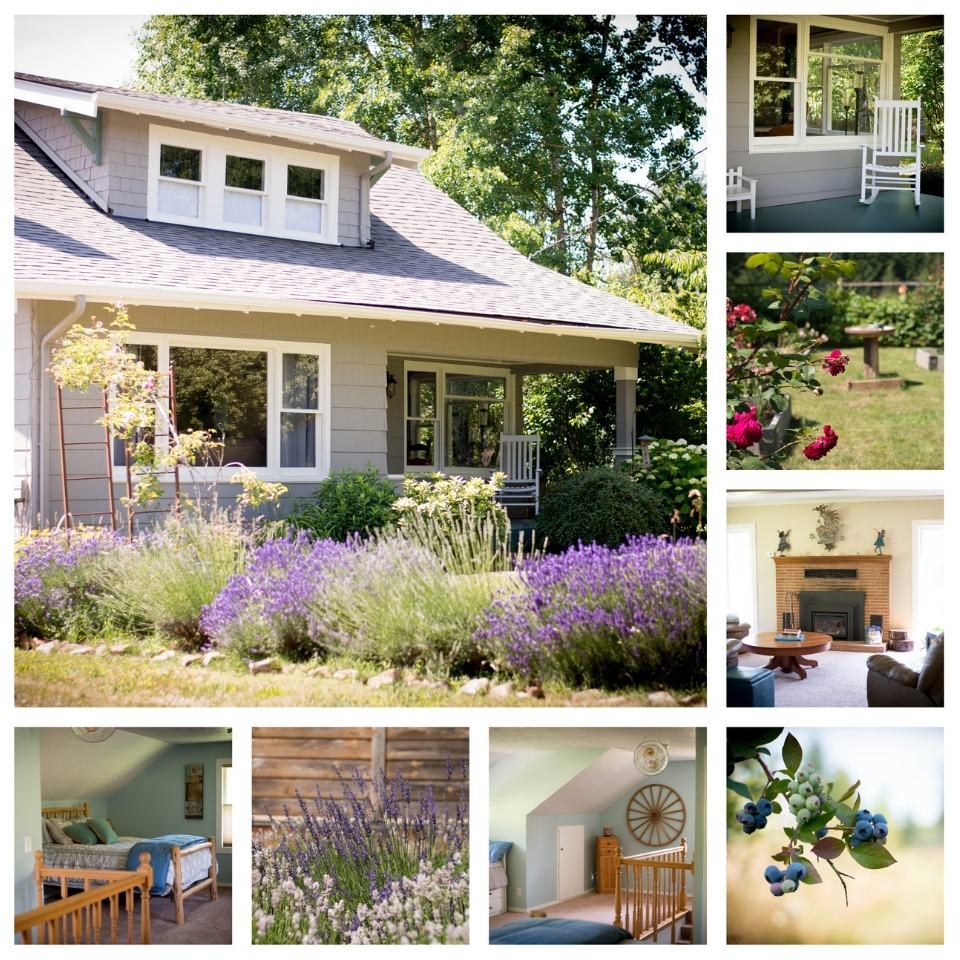 Get Your Yacon Here
Their farm has been certified organic since 2005. It currently produces blueberries, lingonberries, blackberries, seasonal veggies, yacon products, flowers and farm fresh eggs. Okay, so we had to ask about yacons:
In addition to being a powerful prebiotic, this amazing tuber offers many additional health benefits. As a natural sweetener, it does not affect glucose levels, providing a mild flavored sweetness to salads and smoothies. Some of the additional health benefits of yacon include its ability to regulate blood sugar levels, lower "bad" cholesterol, help with weight loss, lower blood pressure, improve the health of the liver, prevent certain types of cancer, boost digestive health, and strengthen the immune system.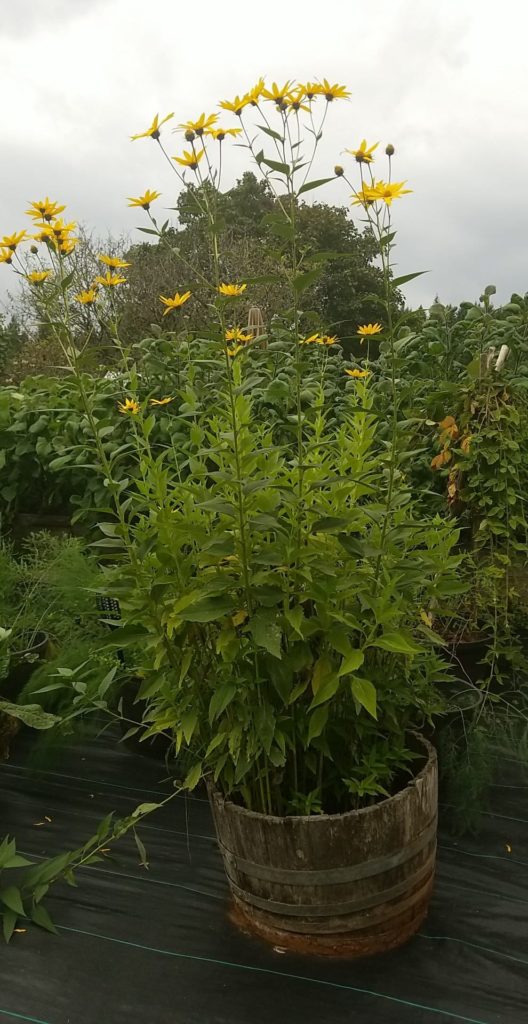 Lauren and Ted sell the crowns but they also make a value-added syrup for sale. Their 1200 blueberry plants are u-pick from June through August. The MoonRidge farm store includes honey, teas, frozen berries and meats (goat, rabbit and chicken).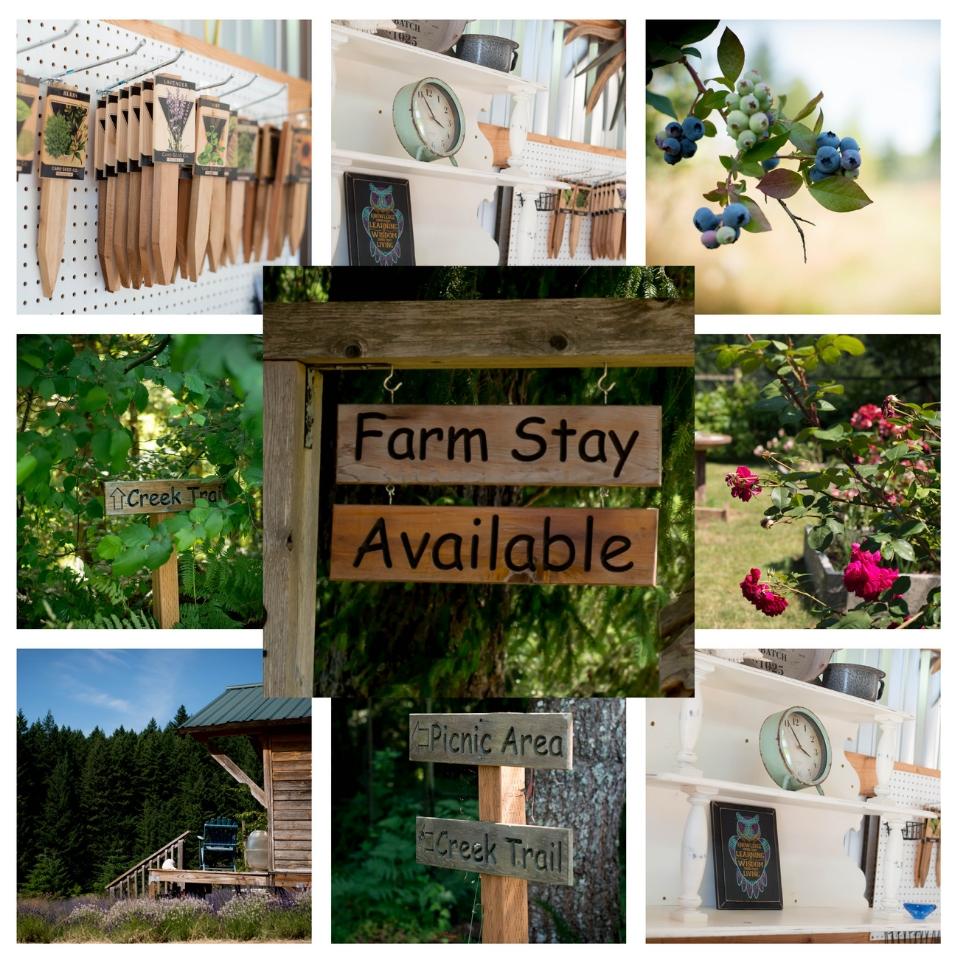 New to their operations in the past year, Lauren and Ted added 1300 lavender plants they dug up and transplanted from a neighboring farm that was going out of business. Soon they expect to add lavender oils, teas, and fresh cuttings.  Whether the farm continues with its high grade hemp production for CBD will be a test of time and market.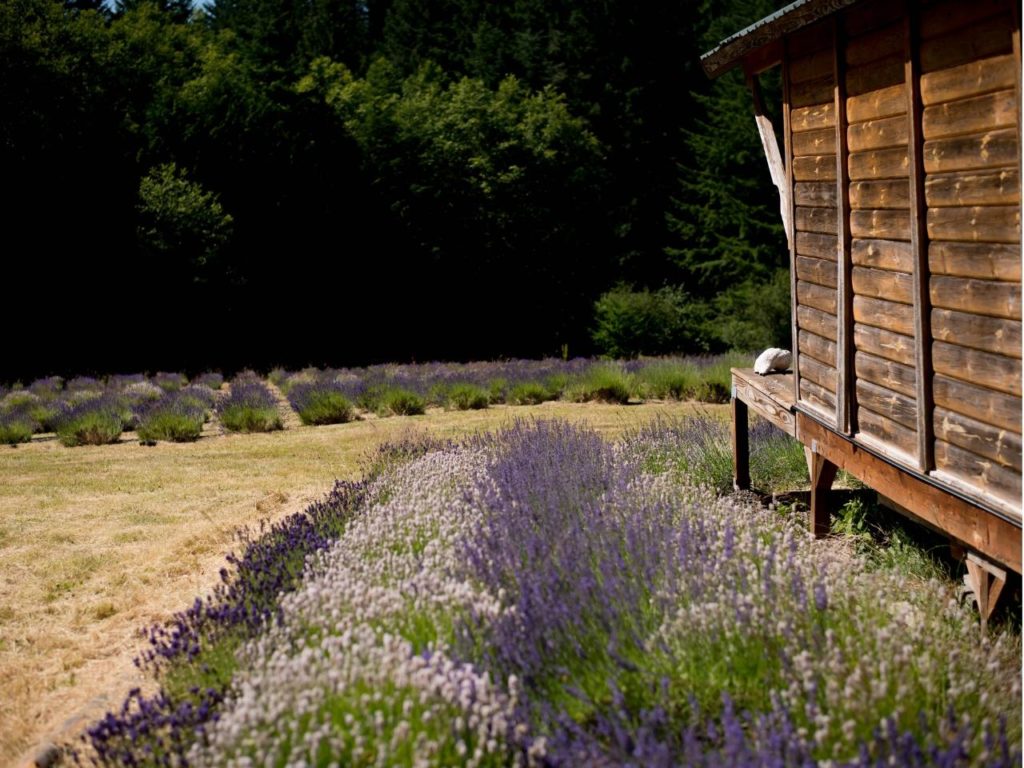 A Getaway That's Not Too Far Away
But, the farm is not all crops and flowers. There are also goats, rabbits and chickens as well as the Buckner Creek with salmon and cutthroat trout. Hawks and wild bees, owls, and old growth dot the property. There are woods and meadows cut with trails, a grassy meadow and a labyrinth. One can interact with farm life as much as is rewarding and comfortable or retire to the comfortable 1901 renovated farm house with its open living/dining area with gas fireplace and views of the grounds. Overnights on the farm belie the fact this countryside retreat is only 35 minutes from the city of Portland.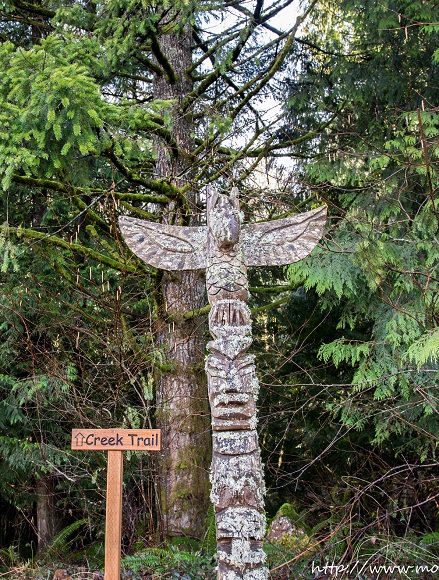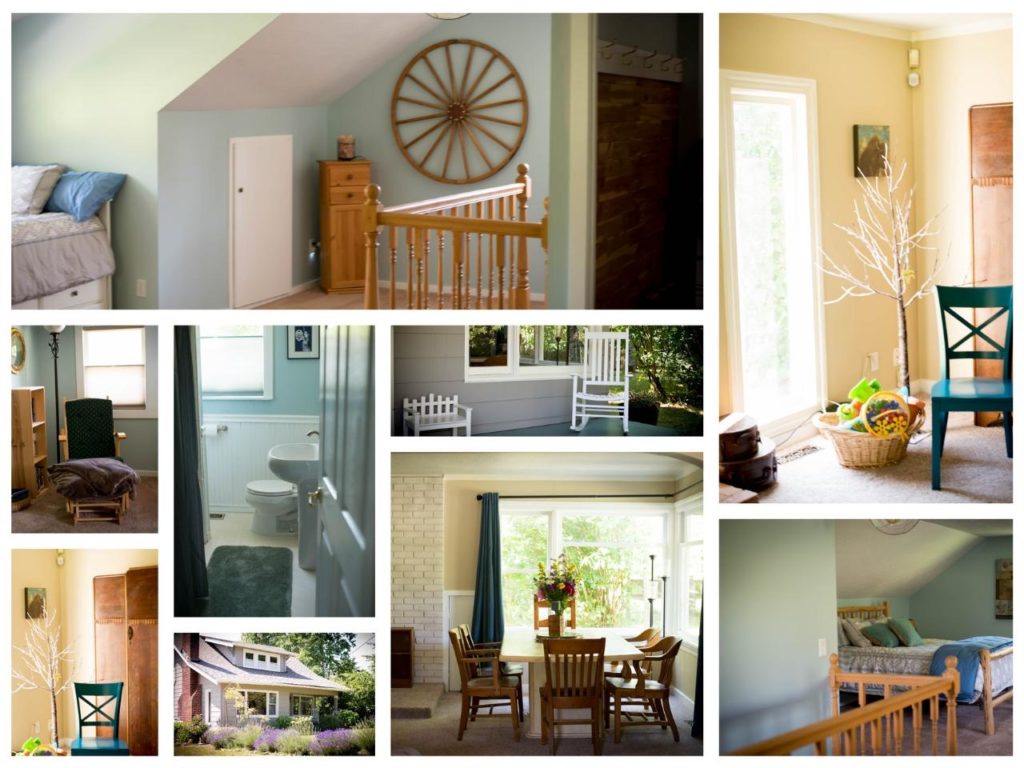 A stay at MoonRidge offers peace and quiet. It also offers an introduction to a chosen path of food production that is not only good for the body and the soil, but good for the soul.
Check out the MoonRidge Farms listing here on Farm Stay USA, and then visit their booking page to start planning your stay!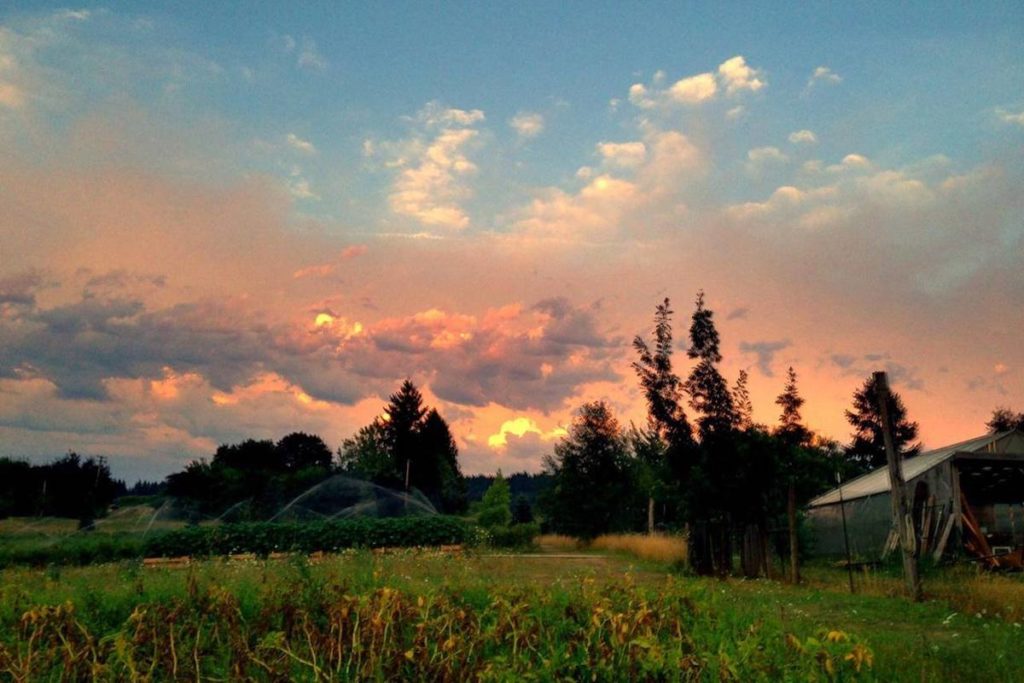 (All photos provided courtesy of MoonRidge Farms)