Seasonal Recipe: Arugula, Peach and Blue Cheese Salad
Arugula, Peach and Blue Cheese Salad from Cook With What You Have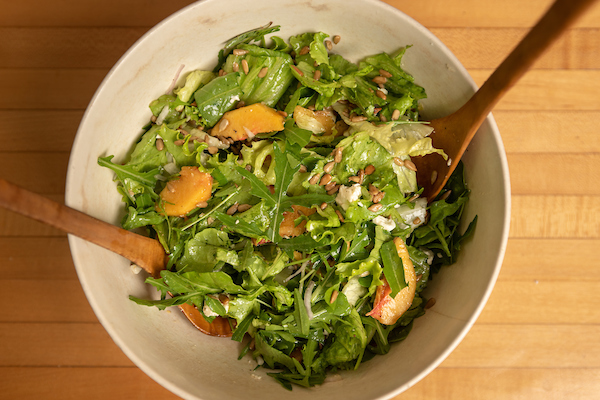 This is such a bright, sweet and crunchy salad for mid-summer. Use any blue cheese  you like or substitute feta or fresh goat cheese.
Variation
Substitute a handful of croutons or torn, toasted bread for the toasted seeds or nuts
Serves 4
1 large peach, peeled and sliced
3 cups arugula, washed, dried and torn, if large
3 cups lettuce (more or less), washed, dried and torn or cut into bite-sized pieces
2 tablespoons red onion (wonderful with torpedo onions), thinly sliced
Handful of basil leaves, torn or chopped
1/4 cup toasted sunflower seeds or almonds or hazelnuts, roughly chopped if using nuts
1.5 ounces blue cheese, crumbled (or feta or fresh goat cheese)
Salt and freshly ground black pepper
2 tablespoons wine vinegar
3-4 tablespoons olive oil oil
Put the greens, peaches, herbs, onion, seeds and cheese in a salad bowl. Drizzle with vinegar, oil and add salt and pepper. Toss gently and taste and adjust as needed.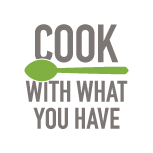 * * * * * *
Recipe Collection from Cook With What You Have
Do you ever find yourself with an abundance of produce from your CSA subscription and are not totally sure what to do with it all? Or, if you're a farmer — maybe especially because you're a farmer — you're more than set with a particular ingredient but short on ideas for how to prepare it in interesting ways again and again? We all have our favorites, but variety is always good and reducing waste is a big plus! The USDA estimates that 21% of the available food supply is wasted in homes, but we know that supporters of working farms and ranches want to make a difference in this regard.
Enter… Cook With What You Have! Farm Stay USA has teamed up with Katherine Deumling of CWWYH to bring her searchable, seasonal collection of 900+ recipes to our readers and our farm members alike.
I have always loved food and cooking and all that food is, beyond the requisite calories. My childhood in West Germany and my creative, efficient, cook-with-what-you-have mother with a sprawling vegetable garden, shaped my early years. A Thomas J. Watson Fellowship in 1996 took me to rural Italy and Mexico to deepen my understanding of how and why people cook the way they do. More than a decade of involvement with Slow Food, locally, nationally and internationally brought together my interest in food systems, regenerative agriculture and the combination of joy and justice. — Katherine Deumling
Users of the Farm Stay USA website may sign up for an individual membership on Cook With What You Have with a 20% discount using the code farmstayusa at checkout. For $4.99 per month, subscribers will have access to the entire searchable archive of recipes, tips, and techniques, plus a weekly newsletter with seasonal highlights and inspiration for the week.
Our dues-paying US Farm Stay Association members may subscribe to the Farm Stay USA organizational level and use CWWYH content (as applicable) in their day-to-day business of serving meals to guests, teaching cooking classes, or sharing recipes with their guests.