Tomato Coconut Milk Curry (Makhani Curry) from Cook with What You Have
Tomato Coconut Milk Curry (Makhani Curry)
The last of the tomatoes are rolling in here in the Pacific NW and this tomato coconut milk curry (makhani curry) is divine!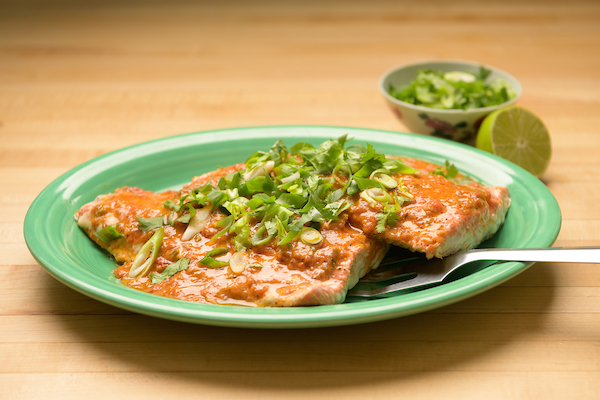 This sauce is so delicious and can be used with/on any manner of vegetable, protein, grain or bean even–it's delicious with chickpeas. Here I served it first (above) with rice and salmon and lots of cilantro and scallions and then (below), thinned out with a bit of cream and water with the black "forbidden" rice, some scallions and an egg.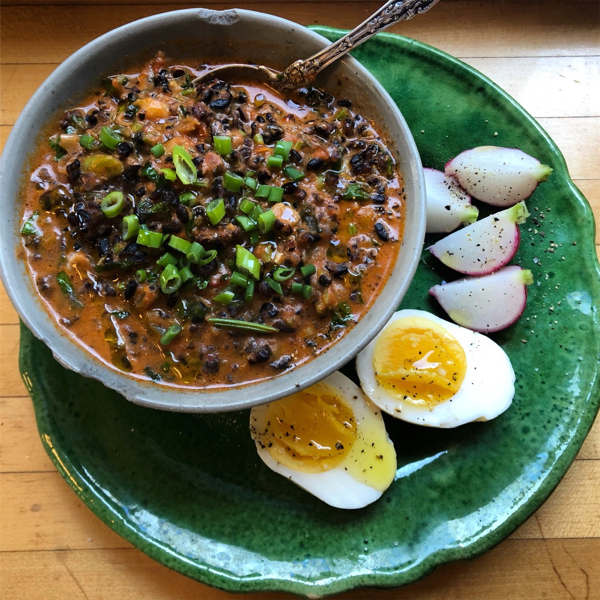 Makhani curry (a North Indian dish) is classically made with butter and cream. I use olive oil and coconut milk here but substitute butter and cream if you'd like. I often stretch the sauce on the second day with cream and a little water.
If you have a few extra minutes you can toast spices and grind them for the garam masala. The flavor is fabulous but a store-bought version will be just fine.
–Inspired by Cook Republic
Yields 2 1/2 cups sauce (enough for 2 meals of 4 servings each)
2 tablespoons olive oil (or butter, see headnote)
1 fresh jalapeno or serrano chili, minced (remove seeds if you want to keep it milder)
3 bay leaves
1 1/2 tablespoons finely grated, fresh ginger
5 cloves garlic, finely grated or minced
1 tablespoon garam masala (homemade or store-bought, see headnote)
1/8 teaspoon cayenne powder (or more, to taste)
1 tablespoon brown sugar
3/4 teaspoon salt
1 1/2 cups tomato puree or crushed tomatoes or chopped fresh tomatoes
1 cup coconut milk (or heavy cream, see headnote) or the whole can of coconut milk, which I often do so I have even more sauce!
Juice of 1 lime
To prepare with salmon (for 4 servings):
1 lb salmon fillet
2 teaspoons oil
1/2 teaspoon salt
Black pepper
Cooked forbidden (black) rice or other rice
3/4 cup fresh cilantro, leaves and stems, chopped
2 scallions, white and green parts thinly sliced
To make the sauce:
Heat olive oil in a medium saucepan over medium-high heat. Add bay leaves and fresh chili and cook for about a minute. Add ginger and garlic, stir well and cook for another 30 seconds or so until fragrant but take care not to burn the garlic. Add the garam masala, cayenne, sugar, salt and tomato and stir well. Bring to a simmer and cook, uncovered for about 10 minutes until slightly thickened. Whisk in the coconut milk and simmer for another 10 minutes or until slightly thickened again. Taste and adjust for salt. Add lime juice.
This quantity should be enough for 2 meals of 4 servings each. Freeze half the sauce, for the second meal, if you'd like. It will keep for several months in the freezer.
For salmon:
Pat the fish dry and put on a plate and sprinkle with salt and pepper. Cut the fish in half to fit the pan you'll be cooking it in, if needed, and then cover the fish in a thin layer of the curry sauce–it will just take about 1/3 cup at most–you don't want it dripping down the sides, really.
Heat a large, heavy skillet with just a little olive oil over medium-high heat. Add the salmon, skin-side down and cook for a 2-3 minutes, uncovered, then cover, turn heat down to medium-low and cook for another 4-7 minutes, depending on thickness of fillet and how you like your salmon cooked. Serve with rice, more sauce, the fresh herbs and scallions and another squeeze of lime juice, if you'd like.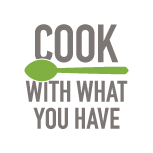 * * * * * *
Recipe Collection from Cook With What You Have
Do you ever find yourself with an abundance of produce from your CSA subscription and are not totally sure what to do with it all? Or, if you're a farmer — maybe especially because you're a farmer — you're more than set with a particular ingredient but short on ideas for how to prepare it in interesting ways again and again? We all have our favorites, but variety is always good and reducing waste is a big plus! The USDA estimates that 21% of the available food supply is wasted in homes, but we know that supporters of working farms and ranches want to make a difference in this regard.
Enter… Cook With What You Have! Farm Stay USA has teamed up with Katherine Deumling of CWWYH to bring her searchable, seasonal collection of 900+ recipes to our readers and our farm members alike.
I have always loved food and cooking and all that food is, beyond the requisite calories. My childhood in West Germany and my creative, efficient, cook-with-what-you-have mother with a sprawling vegetable garden, shaped my early years. A Thomas J. Watson Fellowship in 1996 took me to rural Italy and Mexico to deepen my understanding of how and why people cook the way they do. More than a decade of involvement with Slow Food, locally, nationally and internationally brought together my interest in food systems, regenerative agriculture and the combination of joy and justice. — Katherine Deumling
Users of the Farm Stay USA website may sign up for an individual membership on Cook With What You Have with a 20% discount using the code farmstayusa at checkout. For $4.99 per month, subscribers will have access to the entire searchable archive of recipes, tips, and techniques, plus a weekly newsletter with seasonal highlights and inspiration for the week.
Our dues-paying US Farm Stay Association members may subscribe to the Farm Stay USA organizational level and use CWWYH content (as applicable) in their day-to-day business of serving meals to guests, teaching cooking classes, or sharing recipes with their guests.